It is not easy matter to become a leader, it is even more difficult to maintain the position one has occupied. To meet the achieved level, Kostanaiskiye Mineraly JSC is constantly improving the quality of its products and services, trying not only to meet the requirements, but also to outrun them to a great extent, implementing the ide as that in future will certainly be indispensable tools to get success in modern-day business.
The company operates an integrated management system, including MC ISO: 2015 – Quality Management System, ST RK ISO: 2016 – Environmental Management System, ST RK OHSAS 18001: 2008 – Occupational Safety and Health Management System, ST RK ISO 50001: 2012 – Energy Management System.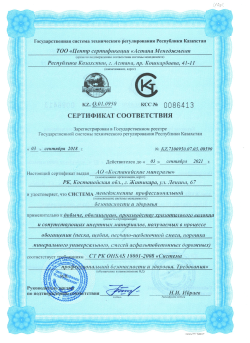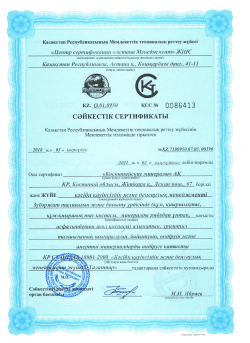 «Primary objective of the Management Policy in the field of quality, environmental control and sound production is to obtain the products that meet customer's needs, competitive in global market, reducing the negative impact on the environment, and contributing to improving safe conditions and labor protection».
The Quality Management System MS ISO 9001: 2015 covers all the stages and types of activities of products manufacturing, compiles a number of interrelated processes, each has its own holder, who is responsible for its operation and measurement and monitors and analyzes its efficiency and adjustments.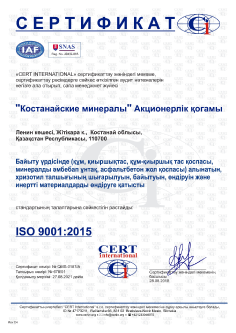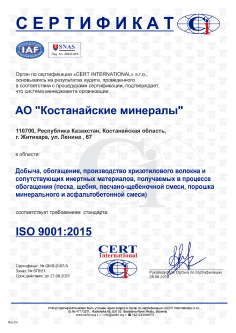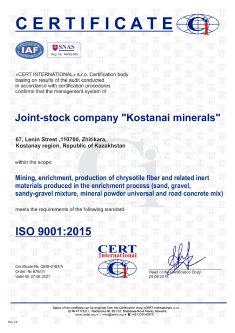 Introduction of  Environmental Management System ST RK ISO 14001: 2016 provides creation and strengthening of a kindly image of the company based on environmental responsibility and sustainability. While implementing international standard for EMS, tough requirements are brought forward regarding the complex of environmental safeguards to regular reducing of environmental load on environment and people.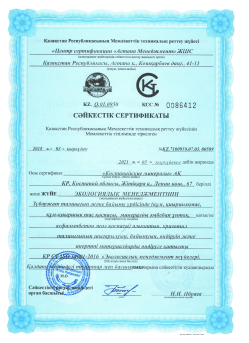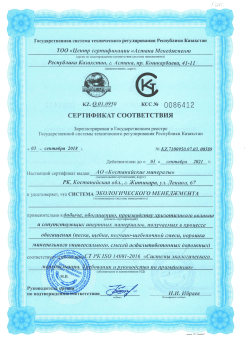 The International Safety Standard ST RK OHSAS 18001: 2008 provides for reducing hazard in production processes to preserve health and ability to work of the working staff in order to increase company's efficiency.
Particular attention is paid to maintain and improve Energy Management System, according to the international standard ISO: 50001-2012, to monitor energy consumption using energy efficiency system in production to complete satisfaction of customers' requirements and expectations, and environmental protection.